Reliable Technology Services, Inc. Recognized as One of the Most Reviewed IT Services Company in Dallas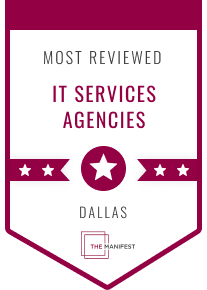 At Reliable Technology Services, Inc., we aid SMEs by addressing their critical IT needs. We're a trusted partner that delivers full-service IT and cybersecurity services, equipping our clients with advantages to succeed. Today, we're thrilled to announce that we've been named as a leader in the space by The Manifest, a guide to B2B services. In the website's newest research, they recognized us as one of the most reviewed IT services providers in Dallas!
For context, check out how we started years ago:
In 2007
Jason Denton, Founder & CEO of Reliable Technology Services, Inc., established the company in an effort to serve growing organizations with modern technology solutions. Since then, we've been empowering businesses with robust and coherent IT support, allowing them to take on the evolving challenges of the modern business world.
In 2019
Global Crossing Immigration partnered with us for managed IT services, including security consulting, cloud server solutions and maintenance, and other IT solutions. With a need for secure storage to safe-keep client information, they engaged with us to bolster their cyber functions. Our services allowed the client to employ and implement a strategy to address the challenges brought by the pandemic.
"We did not lose a single moment of being able to handle business in transitioning to remote working. We left work one day, and the next, everyone was able to log in, on time, from home and access everything needed to perform our jobs."
— Kerin Dippel Stascinsky, Sr. Paralegal & Office Manager, Global Crossing Immigration
In 2022
The Manifest names the leading companies in Dallas, and we're thrilled to be one of the most reviewed IT companies for 2022. Thank you to our partners for believing in us throughout the years. This recognition wouldn't have been possible without your support!